$19.99
AUD
Category: 6 TO 9 YEARS OLD | Series: Little People, Big Dreams
In this momentous 50th book in the critically acclaimed, multimillion-copy best-selling Little People, BIG DREAMS series, discover the life of Elton John, the piano wizard who rocketed to stardom with his music. As a child, Elton started playing his grandmother's piano in Harrow, London. He could pick tunes out by ear and was soon attending lessons at the Royal Academy. After answering an advertisement in a newspaper, Elton teamed up with a lyric-writing buddy: Bernie Taupin. The rest was history. Elton's songwriting talent, musical skill, and dazzling outfits have made him one of the all-time greats. This moving book features stylish and quirky illustrations and extra facts at the back, including a biographical timeline with historical photos and a detailed profile of the musician's life.  ...Show more
$14.99
AUD
Category: 6 TO 9 YEARS OLD
   Adventure awaits! From the imagination of Rowley Jefferson comes an adventure of epic proportions. Join Roland and his best friend, Garg the Barbarian, as they leave the safety of their village and embark on a quest to save Roland's mom from the White Warlock. Will our heroes survive? Find out in Ro wley Jefferson's Awesome Friendly Adventure! ...Show more
$24.99
AUD
Category: 6 TO 9 YEARS OLD
One day, a parrot appears on the doorstep. His name isJimmy. Dad thinks Jimmy is amazing. He's loud, he's funny and he's full of surprises! But Jack doesn't like surprises. Not at all...  
$12.99
AUD
Category: 6 TO 9 YEARS OLD
Zola loves living on Boomerang Street with her mum and her nonna. Every day of the week is an adventure. But Zola has a problem. No matter how much she tries, she can't keep out of trouble! Collect all seven stories in the series - one for every day of the week. From the bestselling author of Looking fo r Alibrandi. ...Show more
$15.99
AUD
Category: 6 TO 9 YEARS OLD | Series: The Bad Guys
Seriously WHAT is going on with Snake? Terrifying powers! Evil allies! Inter-dimensional doorways! WHAT IS HIS DEAL?! And that's not all! Why is Agent Fox suddenly so mysterious? Who IS she, exactly?! Dang it! We need answers! Wolf and the gang are back. And theyre even more confused than YOU. The Bad G uys EPISODE 12. IT WILL MELT YOUR BRAIN...   ...Show more
$22.99
AUD
Category: 6 TO 9 YEARS OLD | Series: Skunk and Badger
When friendly, free-spirited Skunk moves in with solitary rock-scientist Badger, both are forever changed in this whimsical, emotionally rich story from Newbery Honor author Amy Timberlake, illustrated in full-colour and black-and-white pictures by Caldecott Medalist Jon Klassen (This Is Not My Hat, Pax ).   No one wants a skunk. They are unwelcome on front stoops. They should not linger in Rock Rooms. Skunks should never, ever be allowed to move in. But Skunk is Badger's new roommate, and there is nothing Badger, who prefers to be left alone to do Important Rock Work, can do about it. Skunk ploughs into Badger's life, and Badger's life is upended. Tails are flipped. The wrong animal is sprayed. And why-oh-why are there so many chickens? ...Show more
$12.99
AUD
Category: 6 TO 9 YEARS OLD | Series: Hot Dog | Reading Level: 7 Kids picture
Hotdog, Lizzie and Kev are going CAMPING! There will be wood-chopping, campfire singalongs and an EPIC biscuit-eating competition. Its going to be awesome! Can Hotdog, Lizzie and Kev learn the skills they need to survive in the bush?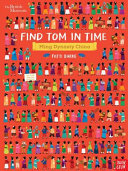 $24.99
AUD
Category: 6 TO 9 YEARS OLD
Join Tom on a time-travel adventure to Ming Dynasty China . . . if you can find him!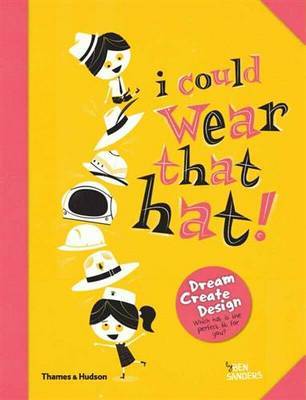 $19.95
AUD
Category: 6 TO 9 YEARS OLD
Ever dreamt of going to space? Or would you rather keep your feet on the ground – perhaps in a national park or at the beach? Do you like helping people, or furry friends? Are you obsessed with fashion? Or do you have a knack for drawing and an impressive collection of building blocks? I Could Wear that Hat! is packed with fun activities to help you imagine what you might like to be when you grow up. Each job needs a very special hat, so make sure you try them all on! Which hat will fit best? Or maybe you'll invent a hat of your own? There are activities for aspiring astronauts, veterinarians, architects, fashion designers, chefs, lifesavers, doctors, park rangers, writers and even archaeologists. ...Show more
$14.99
AUD
Category: 6 TO 9 YEARS OLD | Series: Treehouse
Andy and Terry's treehouse now has 13 new storeys, including a tiny-horse level, a pyjama-party room, an Underpants Museum, a photo-bombing booth, a waiting room, a Door of Doom, a circus, a giant-robot-fighting arena, a traffic school, a water-ski park filled with flesh-eating piranhas and a treehouse visitor centre with a 24-hour information desk, a penguin-powered flying treehouse tour bus and a gift shop. Well, what are you waiting for? Come on up! ...Show more
$24.99
AUD
Category: 6 TO 9 YEARS OLD
Every day, we see a problem we would like to fix. A piece of rubbish in a green, grassy park. Plastic water bottles buried in the sand at the beach. A garbage bin overflowing onto the street. A skinny, stray dog. A homeless person on a cold day.These problems seem impossible for one person to change. Bu t we can fix them, if we each do our part o one step at a time. This practical guide is designed to empower kids to make changes in their lives to help make a difference in the world. Filled with information, ideas and activities, and interspersed with features on amazing children around the world. This book shows kids how to- Avoid single-use plastics Throw a plastic-free party Make a compost bin and reduce waste Start a herb garden Grow bee-friendly flowers Learn about where their food comes from Be kinder to others, share and donate Kids are on a mission to make our earth a better, safer, happier place. ...Show more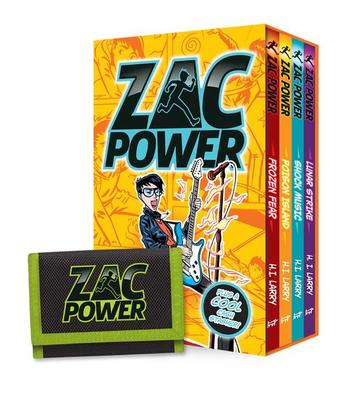 $24.95
AUD
Category: 6 TO 9 YEARS OLD | Series: Zac Power
Zac Power is a super series, and the re-launch titles have been flying out the door. The first four titles sold 29, 000 units in under a month and were reprinted before publication. A very exciting start to a new era of Boy's Chapter Books!