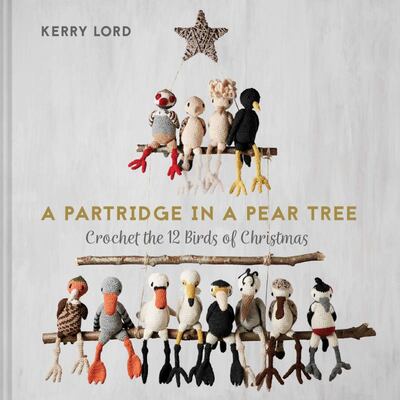 $24.99
AUD
Category: Craft & Hobby
A unique collection of crochet patterns for the 12 birds of Christmas. Taking inspiration from the famous Christmas carol, Kerry Lord, author of the Edward's Menagerie series and founder of TOFT yarns, has created this unique crochet collection. Including John the Spotted Woodpecker for 12 Drummers Dru mming, Lydia the Greylag Goose for 6 Geese a-laying and, of course, Felix the Partridge in a pear tree, this is Christmas fun at its most creative. Patterns include: 12 Drummers Drumming - John the Spotted Woodpecker 11 Pipers Piping - Nina the Sandpiper 10 Lords-a-Leaping - Agnes the Heron 9 Ladies Dancing - Loise the Cormorant 8 Maids-a-milking - Delilah the Cattle Egret 7 Swans-a-swimming - Margot the Black Swan 6 Geese a-laying - Lydia the Greylag Goose 5 Gold Rings - Gilbert the Pheasant 4 Calling Birds - Peter the Blackbird 3 French Hens - Ruth the Hen 2 Turtle Doves - Beatrice the Turtle Dove And a Partridge - Felix the Partridge ...Show more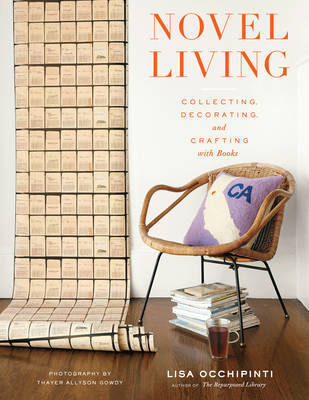 $29.99
AUD
Category: Craft & Hobby
In Novel Living, Lisa Occhipinti presents her ideas for preserving, collecting and displaying intact books and also deconstructing them to make craft projects. In the first chapter, Occhipinti walks readers through the basics of how to start a collection and how to identify a book's value. In chapter 2, we learn what it means to "live with books"--how to display books beautifully in our homes by building a library, creating motifs and even constructing innovative shelving from scratch. The third chapter is all about how to preserve books, from repairing a spine and mending a torn page, to step-by-step instructions for creating protective slip cases. In the fourth and final chapter, Occhipinti provides readers with two types of craft projects--those that can be done without destroying the book and those where the book must be deconstructed. The projects that preserve books use simple scanning and photocopying techniques to make the projects (for instance, scanning favourite book covers or illustrations and having them printed onto fabric to make a table runner and napkins). Most of the projects require no more than a craft knife and a glue gun and can be completed by novice crafters. Gorgeous illustrations and photographs will be included throughout this classic-looking hard cover book. ...Show more
$34.99
AUD
Category: Craft & Hobby
Fleur McHarg is a florist in the true, traditional sense of the word. Guided by the eternal wisdom of Constance Spry, the trailblazing early-20th-century British florist, Fleur believes in letting flowers be the stars of the show by working with the natural shape of a flower or branch. When it comes to beauty, you can't beat nature - but you can learn how to showcase it for startling impact.Fleur has cultivated a lifelong obsession with colour, beauty and flowers. Here, she shares her astute flower philosophy, including:- Over 30 of her favourite flowers and how to use them- Why some combinations work and others don't- How to select a base and blend colours for a flower arrangementThe Flower Expert is a stunning celebration of Fleur's artistry and her ability to fuse modern and classic to create a style that suits each occasion. ...Show more
$27.99
AUD
Category: Craft & Hobby | Reading Level: 8.5 Kids Non Fiction
A how-to guide to making your own collages, brimful of fascinating hints and tips from a master of the genre. Over the course of a 40-year career, Jeannie Baker has perfected the art of collage in the creation of picture-book classics such as Where the Forest Meets the Sea and Window, a Boston Globe-Ho rn Honor Book. Her stunning pieces, devised by assembling all sorts of different textures, are known all around the globe. Whether it's dried flowers or tiny shells, spaghetti or postage stamps, she uses the world around her to make work that is astonishingly beautiful and deeply creative. In Playing with Collage, she shares her secrets at last – and encourages her readers to get creative. Within each of this book's four main sections, Jeannie presents an abstract collage of her own and offers suggestions and starting points for beginners. There are no right or wrong answers in this treasure of a book, it's all about trusting your instincts ... and playing! ...Show more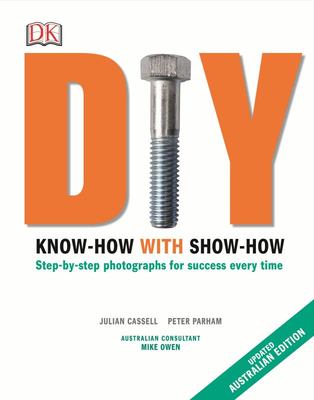 $39.99
AUD
Category: Craft & Hobby
Whether you need a quick fix or a large renovation project, DIY- KNOW-HOW WITH SHOW-HOW will teach you how to tackle any DIY task with confidence. This revised and updated step-by-step guide covers every project, small or large, from fitting a shower cubicle to applying different painting techniques and installing water tanks. Every task is presented with sharp photography and simple, clear instructions, guiding you through the whole sequence. This extensive manual is a must-have for any home repairs or improvements. ...Show more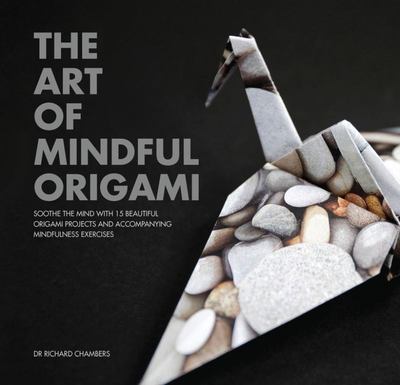 $19.99
AUD
Category: Craft & Hobby
The Art of Mindful Origami extends the concept of mindful, art-therapy coloring using 15 origami projects, ranging in difficulty from basic to complex, as tools to develop mindfulness. In recent years, interest in mindfulness has exploded and it is now a part of popular culture. Increasingly, creative p ursuits such as coloring are being used as a way for people to focus and enter a mindful state. Each project starts with a brief description and background to the model. Subsequent pages give instructions for folding the particular model. For difficult exercises, the book details ways of staying focused and calm and using mindfulness to deal with frustration or distraction. This is an important part of mindfulness and leads to a range of benefits for wellbeing and performance. Once each model is folded, the book then outlines various related exercises that can help to further develop mindfulness. For example, after folding the paper boat, readers are encouraged to lie down and place the boat on their belly and watch it rock up and down on the "waves" as they breathe. This helps them develop mindful breathing, which is a powerful tool for relaxation and focus. High-quality patterned origami paper and coloring sheets, which can easily be torn from the book, are included to make this the ultimate gift for anyone wanting a calmer, more stress-free life. ...Show more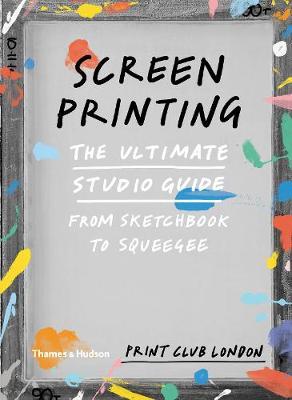 $55.00
AUD
Category: Craft & Hobby
Craft is no longer a trend; it is now an enshrined aspect of modern life. This sequel to Olivier Dupon's bestselling The New Artisans the book that began it all showcases 60 new makers whose creations will inspire and delight. The book is divided into two sections for ease of reference. The first profil es the artisans in easy-to-follow alphabetical order, while the second part consists of a directory of products, neatly divided into categories. Complete with an introduction, as well as the authors personal recommendations for inspiring shops, websites and blogs to visit, this is the perfect curated resource for discovering unique and beautiful pieces designed and made by talented artisans from around the world. ...Show more
$29.99
AUD
Category: Craft & Hobby
Materially Crafted is a must-have guide for design mavens seeking to develop their DIY chops, even if they're embracing their crafty side for the first time.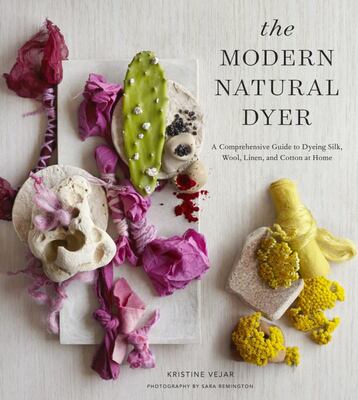 $39.99
AUD
Category: Craft & Hobby
Thousands of natural materials can produce glorious colour--the cochineal insect produces pink, maroon and purple, and more than 500 species of plants produce indigo blue. Now, in The Modern Natural Dyer, expert Kristine Vejar shares the most user-friendly techniques for dyeing at home with foraged and garden-raised dyestuffs as well as with natural dye extracts. Demystifying the "magic," Vejar explains in straightforward, easy-to-follow detail how to produce consistent, long-lasting colour. With stunning photography of the dyes themselves, the dyeing process, and 20 projects for home and wardrobe, The Modern Natural Dyer is a complete resource for aspiring and experienced dye artisans. ...Show more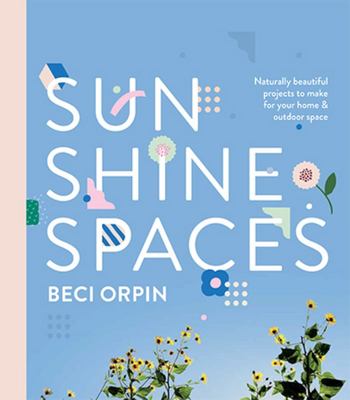 $39.99
AUD
Category: Craft & Hobby | Reading Level: General Adult
In Sunshine Spaces, designer Beci Orpin show us how to make and create a range of fun homewares and other fabulous ideas for your outdoor space, including outdoor entertaining as well as how to bring a little of the outdoors inside your home Inspired by the color and beauty of nature, projects include p lanter pots and hanging pots, picnic blanket and outdoor cushions, hammock and swing, sun umbrella and many more. Beci also includes advice on the best indoor plants and their care, some great pots to put them in, flower arranging and natural art installations, as well as a complete guide to plant-based fabric dying.   Chapters also include Party and Play with inspired ideas for an outdoor moonlit dinner party with lanterns, flower crowns and table decorations, and for the kids there is a play tent and cubby, pet rocks and a sun dial. Using a range of easily accessible materials including wood, flowers and plants, fabric, rope and string, concrete and some recycled products, Beci shows you everything you need to know about bringing the sunshine into your life and home. ...Show more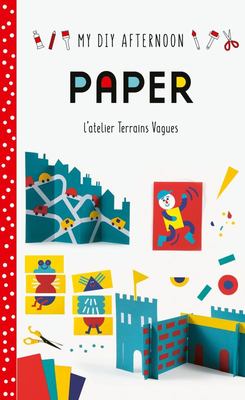 $19.99
AUD
Category: Craft & Hobby | Series: My DIY Afternoon
Eight creative activities to create pop-up cards, a mix-and-match card game, an accordion and many other 100% paper creations.